From a simple oil change or a filter change to a part replacement of a component, total and partial revision you will find qualified technical assistance. Computerized equipment allows us to diagnose problems very quickly with any type of marine engines.
We can help you to resolve the vibration problem and noise from Genset and the main engine, change rubber mounting and installation flexible coupling,  alignment, balancing shaft propeller and intermediate, assistance for change cutlass bearing, services steering, services anchor winch and windlass, assistance Electrical and Navigation system.
Customer Services for Besenzoni product authorized
All the work is carried out by our highly qualified and experienced technical staff.
Brand Covered by Our Team
Inboard Engines
Caterpillar, CF Moto, Crusader Engines, Cummins Marine, Cummins Mercruiser, Daedong, DAF Marine, FNM Marine, Ford Marine, FPT (Fiat Powertrain Technologies), Hyundai Seasall, Ilmor, Indar, John Deere, Kodiak Marine, Lombardini Marine, MAN Marine Power, Mercruiser, Mercury Diesel, Mercury Racing, MTU, PCM Marine Engines, Perkins, Phanter Airboats, Scania Marine, Sea-Doo (BRP), Seven Marine, SISU, Steyr Motors, VM Motori, Volkswagen Marine, Volvo Penta, Yanmar
Industrial Engines & Generators
Caterpillar, Kohler, MTU, Volvo Penta, Mastervolts Genset , NorternLight, Fisher Panda , Cummins , Yanmar, Onan.
Personal Watercraft
Honda Marine, Kawasaki Marine, Sea-Doo (BRP), Yamaha Marine
Outboard Engines
Evinrude, Honda Marine, Johnson, Mariner, Mercury, Mercury Racing, Parsun, Selva Marine, Suzuki Marine, Tohatsu Marine, Yamaha Marine
Installation
You can choose from the best brands before purchasing your marine boat engine, we have a selection of inboard and outboard engines new or used with a warranty, 2 stroke and 4 stroke engines with petrol or diesel power.
Our staff will help you with the best choice of engines for your boat, whether you decide to buy a new engine, or whether you prefer to opt for one of the many opportunities available on used engines.
Genuine or
Comparative Parts
The high standards of design and strict control over the entire process of production over the spare parts ensure the highest level of quality and technology, fitted to each engine to ensure the maximum of performance.
Also, the careful and regular maintenance, and eventual part replacement, will ensure economic and ecological benefits;
reducing emissions
lower fuel consumption
unexpected intervention at the workshop
Your boat will be at the level of the quality that you desire.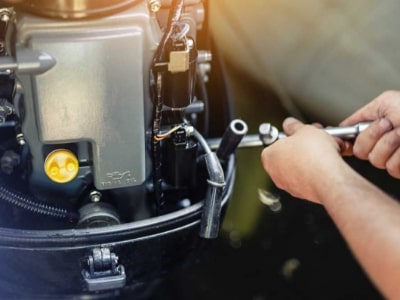 Marine Engine Repair
Marine engine scheduled maintenance( Contact us for our Planning Maintenance Sofware fleet fee-free) , revision injectors, pumps, valves, component cleaning; complete or partial marine engine revisions; endoscopic examinations; compression testing for engines; electronic engine control system with Diagnostic tools
Revision
Using modern machinery and Diagnostic tools our company can perform any type of testing immediately after the removal from your boat, without having to depend on third parties. Each type of motor is carefully checked, if the parts are worn or defective, they shall be replaced with original spare parts.
The adjustments, centred on the valve guide are cut by a high precision machine that doesn't touch thanks to electronic centring. The adjustment of the cylinders is carried out following tolerances in hundredths of a millimetre, which guarantees that y'all get a precise polishing of the cylinder after grinding.